Bathing fee: 1,000 yen
Two baths, including Hoshi No Yu (mixed bathing) and Choju No Yu (women only), are available.

Drop-in bathing and lunch break service are not available during the year-end and New Year season.
Generally, we are closed on Wednesdays.
Drop-in bathing is not available on a number of days including our non-business days and bath cleaning days. Be sure to call us in advance.

Note: The reception may be closed before 13:30 if the baths are crowded.
Drop-in bathing is available to a limited number of customers. The reception hours may end even in the morning particularly on Sundays and consecutive public holidays.
Reception hours: 10:30 through 13:30 (bathing is until 14:00)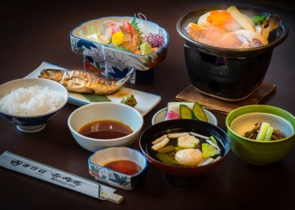 Lunch Service
[Hoshi Gozen (lunch set)] 5,500 yen (incl. tax) including bathing fee, lunch, and resting fee.
10:30 – 14:00: Availability is limited. Please make a reservation. The dishes are served in a restaurant, not in a guest room. The price includes bathing, lunch, and resting fees.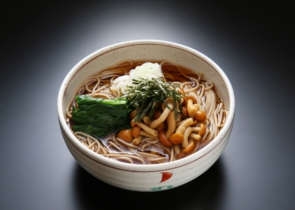 Drop-in Bathing and Soba Noodles
2,600 yen (incl. tax and service)
Drop-in Bathing and Wild-plant Rice
3,000 yen (incl. tax and service)